Historie
From a staff of four to a team of 1,700
The history of Bausch+Ströbel began with a staff of four in a small 200 square meter building in Haller Straße 57, Ilshofen.

Two of the company founders, Siegfried Bullinger and Rolf Ströbel, with the first Bausch+Ströbel machine.

Today, 50 years later, Bausch+Ströbel employs 1,400 people in Ilshofen and more than 1,700 worldwide. In addition to growing in size, the family-owned company has risen to the rank of a world market leader over the past five decades. Still, Bausch+Ströbel has remained true to its values from the founding period: Preserving independence and investing profits in the further development of the company and the people working for it.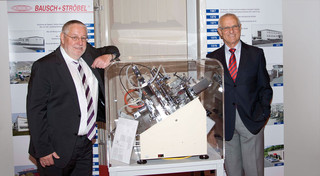 1967
Manufactured the first AFV machine with patented tip removal technology. No other machine type is a better example of Bausch+Ströbel's way from very small business to world market leader. The AFV 1000, a filling and closing machine for ampoules, achieved a revolutionary speed of 2,500 ampoules per hour and has been built more than 100 times since 1967. It has been succeeded by a number of other milestones in pharmaceutical filling and closing equipment – driven by inventiveness, precise work and an exceptionally high degree of in-house parts manufacturing.
1971
Built the first fully automatic processing line for ready-to-use syringes
1972
Manufactured the first continuously operating rotary ampoule processing machine worldwide, the AFV 4005
1978
Developed valveless rotary piston pumps
1986
Founded the ASEDO production subsidiary in Dombühl/Germany
1988
Manufactured the first line for processing ready-to-use syringes in nests
1992
Began manufacturing powder dosing equipment. The FFP 2000 was launched.
1996
Manufactured the first high-speed line for processing cartridges in an isolator
2006
Manufactured the SFM 5072 – high-speed machine for processing 60,000 ready-to-use syringes per hour with in-process control
2011-2013
Completed the largest building project in the history of the company: A new assembly building in Ilshofen with offices, training and presentation facilities, and company restaurant
2012
Bausch+Ströbel acquired Wilco AG, Switzerland
2013
Patented a single-hose peristaltic pump for easy handling and high process reliability
2014
Launched the innovative and flexible VarioSys® production system
2017
Began to apply digital methods throughout the equipment life cycle