Setting new standards in filter testing

Live-Demo

|

April 9th at 2:45 pm

|

Room Diana

Bausch+Ströbel and InfraSolution presents:
Fully automatic and integrated particle detection system for filters in hot air sterilization tunnels and LF units

Registration for the Pharma Congress

here
Automatic filter integrity test for hot-air sterilization tunnels replaces manual process

With meticulous care, an operator guides an instrument with a measuring funnel under the sterilizing tunnel filter. The entire surface of the filter has to be scanned. The test results are printed onto heat-sensitive paper using a small external printer. The printouts, which resemble small sales receipts, then have to be glued onto the test report by the operator. The purpose of the filter integrity test for hot-air sterilization tunnels is to make sure that filters are not leaking and are properly fitted, and that no ingress of unfiltered air takes place. Considering the high degree of automation in the pharmaceutical sector, this might seem too laborious a way of going about this task. "Actually, this is best practice today," explains Thomas Seiffer, Head of Research and Technology at filling and packaging machine manufacturer Bausch+Ströbel.

Seiffer and his team refused to accept this as given, especially as stationary particle counters are already integrated in B+S filling machines. B+S's developers had, for a while, been searching for a better test method. It had to be much more user-friendly and, most importantly, it had to deliver reliable and reproducible results.
Our new test system sets a new standard in this field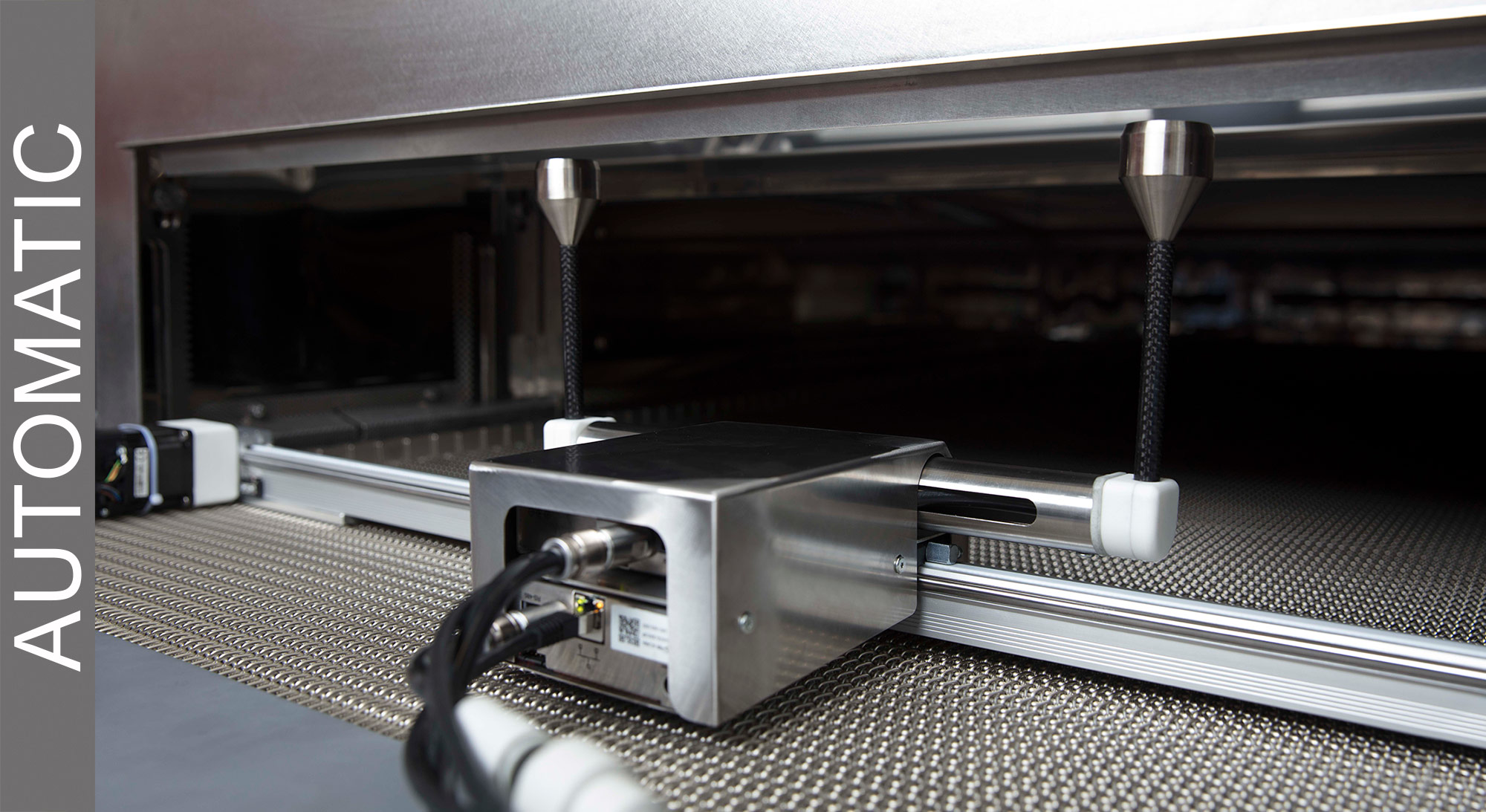 The breakthrough came at a trade show in 2017, when Daniel Engel, a Bausch+Stroebel particle testing expert, discovered a system by the InfraSolution Group. This system utilized robotics for automatic testing of filters in clean rooms. "Of course, the conditions inside a sterilizing tunnel are different, mainly due to the difficulty of access here, but we thought that this system could be adapted to suit our application," explains Engel. InfraSolution was amenable to the plant constructor's offer of a development partnership. "We liked the idea from the very beginning and saw right away that it had potential," says Christian Dorfner, Head of Research & Development at InfraSolution. InfraSolution has many years of experience in clean-room test systems, having started out as a service provider, before branching out several years ago into the development of related test instruments.
The result of this collaboration is a small and compactly designed instrument named "LinearTwinScan". It has twin particle measuring funnels and is guided through the sterilizing tunnel on the tunnel conveyor belt in a precisely predetermined way. "For this purpose, of course, the measuring instrument has to be integrated into the controller of our sterilizing tunnel," explains Daniel Engel. The operator makes all the necessary settings at the tunnel operating panel, where he can also track the progress of the test while it is running and call up the test results. Unlike with the old method, these results are instantly available in a digital form. They can be saved and processed as required and, therefore, meet the relevant statutory requirements (21 CFR Part 11 / GMP Annex 11).
LinearTwinScan effectively combines two tests: an ISO classification test (under development) and a filter integrity test (or "DEHS test", as it is also known). The DIN EN ISO 14644 standard applies to both tests. The first involves taking particle measurements at predefined measuring points. The second involves admitting a defined number of particles into the sterilizing tunnel on the non-sterile side above the filter. A particle count is then taken above and below the filter on the sterile side to determine the separation efficiency of the filter. The entire surface of the filter has to be scanned."These measurements have to be taken several times a year," explains Daniel Engel. B+S's service technicians already carry out these tests at the request of customers. "By launching LinearTwinScan, we aim to take this service to the next level," says Thomas Seiffer. The benefit for the customer is not only exact test results – the B+S service technician can also carry out any necessary maintenance work, such as filter replacement, without delay. Sterilizing tunnels can be retrofitted for use of LinearTwinScan by the customer's own qualification personnel.
The advantages of the new system are obvious: measuring accuracy is no longer dependent on the meticulousness and experience of the operator. Test results are, therefore, more reliable, exact and reproducible. What's more, all data are available in a digital form. A graphical display allows the user to track the progress of the test at any time. "With this new test system, we will set a new standard in this field," agree Seiffer and Dorfner.
Are you interested? If so, please contact
service@bausch-stroebel.de
for more information.