Please come visit us at all4pack to see how you can use our expertise to optimize your production process.
The Smart Revolution in the Pharmaceutical Industry
At this year's Achema, Excellence United partners Bausch+Ströbel, Fette Compacting, Glatt, Harro Höfliger and Uhlmann presented an IIoT (Industrial Internet of Things) hub: an open and modular platform for software development and system integration for whole production lines. With this hub, machines from all Excellence United partners and from other suppliers can be networked together. In Paris, Bausch+Ströbel demonstrate networking and show how it can maximize the effectiveness of equipment and processes.
This new development is shown on the example of our flexible production system
VarioSys®
. Data can be visualized using AR (augmented reality), MR (mixed reality) or wearables. These technologies offer unforeseen possibilities for displaying data in a context.
Potential applications range from support of maintenance staff in troubleshooting at the equipment to process training without the real equipment. Integrated trainer/trainee features make it possible to train complete teams on different scenarios in a virtual environment, which shortens intervention times and enhances GMP compliance.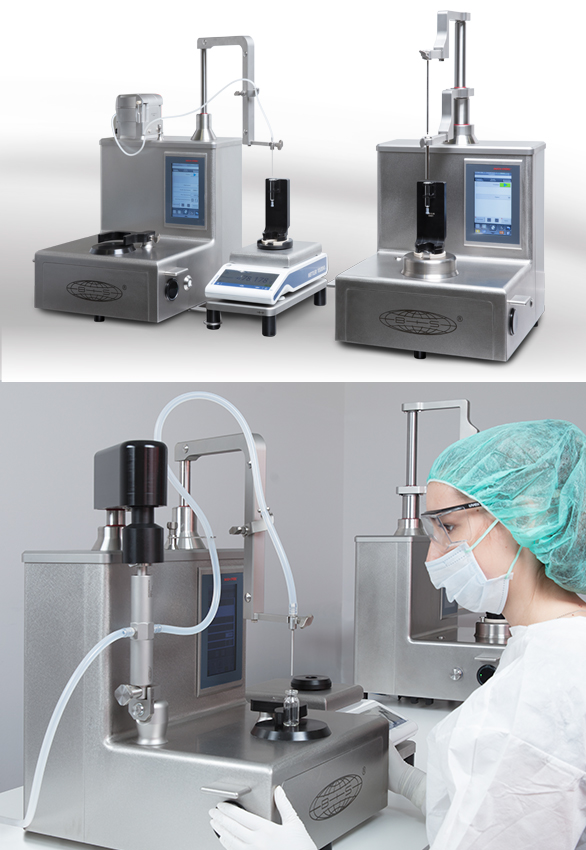 More possibilities in small batch production

Bausch+Ströbel has built small, semi-automatic machines for small-batch production – right from the start. They can be used to process bottles, vials, cartridges, syringes and test tubes. In Paris, we demonstrate their use in syringe processing as an example.

Their special feature is that they employ the same filling and sealing technologies as high-speed machines. The latest generation of the "smallest ones" can easily be operated using a touchscreen. Parameters such as speed, position or filling quantity can also be stored and filed there as so-called recipes. All movements are servomotor controlled. The optional filling needle movement allows bottom-up filling with the needle immersed thereby ensuring gentle handling of the product.

By the use of scales, an in-process control of up to 100 % is possible, with automatic feedback adjustment of the dose during production. Batch reports can be saved and printed using the printer supplied together with the machine equipment. It is the L-shaped design that all new semi-automatic machines have in common. They are not only easy to clean but can also be used in an isolator as they easily withstand the sterilization process with VHP inside the isolator. Each individual machine can also be operated with gloves.

This allows interesting combinations with the modular system VarioSys®. The VarioSys® is a small, space-saving system which can handle different products and batches in an isolator in quick succession due to short changeover times.

We shall be pleased to also show you VarioSys® at the all4pack.
B+S LifeCycle Services

There is more to Bausch+Ströbel than machines alone. The company sees itself as an expert partner capable of meeting any challenge that arises before or during the utilization phase.

In Paris, B+S will, under the umbrella of B+S LifeCycle Services, be presenting tools and services that can be used over the life cycle of its systems: new calibration and validation products, the benefits of B+S original parts and, above all, the countless possibilities of digital services and the B+S Virtual Reality Center. In addition to this, the company will be giving information about its extensive range of training packages, its expert on-site service and the exciting possibilities for boosting the efficiency of any system.

It doesn't matter what stage the system is at within its life cycle: B+S is committed to supporting its customers by providing tailored, one-stop-shop solutions.