A Success
Bausch+Ströbel at Achema 2018
At its exhibition stand spanning almost 700 square meters, Bausch+Ströbel presented about 20 exhibits at Achema 2018, the international, leading trade show of the process industry, which took place in Frankfurt from 11 to 15 June.
Matching the focal topic "Flexible Production", the special machinery manufacturer from Ilshofen, Germany, presented its internationally awarded, modular
VarioSys®
production system, which had been supplemented by a new module for fully automatic tub opening and RTU vial denesting.
In combination with the KSF5105 bulk filling and closing module, this recently developed module makes it possible to fully automatically open tubs with nested RTU vials and denest, fill, stopper, crimp-cap and load the vials into trays. One of its benefits: the vials can be processed with 100% IPC at full machine speed.
VarioSys® was shortlisted and
ranked among the top five
candidates for the Achema Award in the category "Filling and Packing".
Bausch+Ströbel also presented some tools and services for the whole equipment life cycle as part of the B+S LifeCycle Services. In the field of digitalisation, practical applications for pharmaceutical production 4.0 were demonstrated together with the Excellence United partners. In a joint exhibition area called "The Cube", Excellence United presented a fully integrated production line for continuous processing of solid dosage forms, including an IoT hub developed by all the partners. The hub is an advanced platform for software development and system integration for comprehensive pharmaceutical production lines.
The Bausch+Ströbel stand had numerous visitors. Among them was a delegation of 13 representatives of the regional business development agency WFG, headed by agency director David Schneider.
Bausch+Ströbel seized the opportunity
to honour nine
of its more than 50 service points and representations worldwide with an award for successful, long-standing cooperation.
The next Achema in Frankfurt takes place from 14 to 18 June 2021.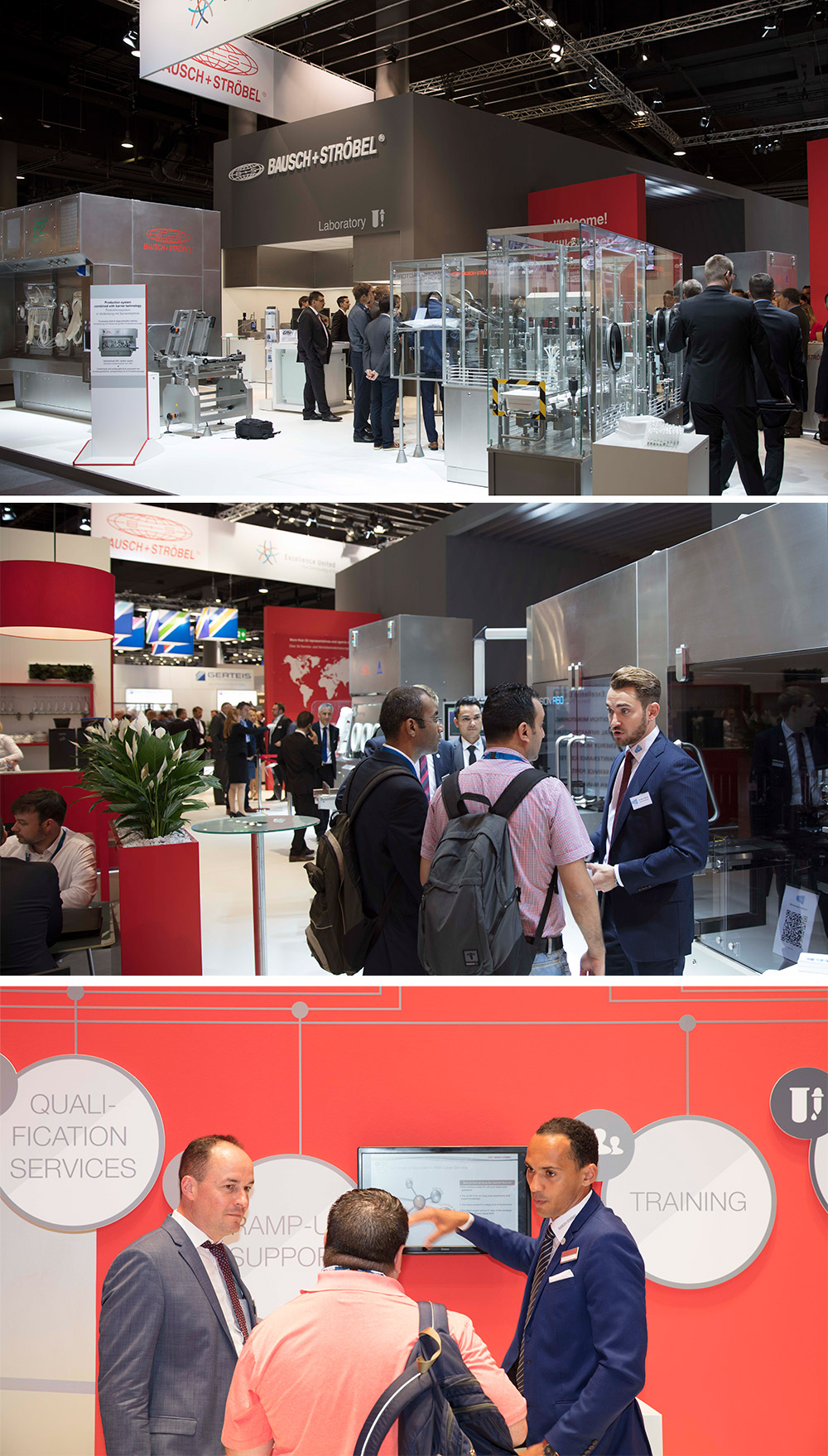 Discover Digital Excellence
Pharmaceutical production is about to reach its next development stage: assisted by digital tools, manufacturers can already reduce downtimes, improve productivity and increase flexibility. The next step is to intelligently networking of people, data and technology. Two factors are decisive for this: knowledge and machines. Excellence United offers both for the digital age of Pharma 4.0.
At ACHEMA 2018, Excellence United will take a look at the future under the motto "Discover Digital Excellence". This is moving towards fully integrated, pharmaceutical production and packaging lines by which companies can remain competitive in the long term.
We invite you to discover digital excellence and find out how you can benefit from it yourself.
More information...
B+S LifeCycle Services

There is more to Bausch+Ströbel than machines alone. The company sees itself as an expert partner capable of meeting any challenge that arises before or during the utilization phase.

At Achema 2018, B+S will, under the umbrella of B+S LifeCycle Services, be presenting tools and services that can be used over the life cycle of its systems: new calibration and validation products, the benefits of B+S original parts and, above all, the countless possibilities of digital services and the B+S Virtual Reality Center. In addition to this, the company will be giving information about its extensive range of training packages, its expert on-site service and the exciting possibilities for boosting the efficiency of any system.

It doesn't matter what stage the system is at within its life cycle: B+S is committed to supporting its customers by providing tailored, one-stop-shop solutions.
Flexible production
thanks to VarioSys®

"Flexible production" is a focus topic of ACHEMA 2018

But what does "flexible production" mean in the context of pharmaceutical product filling?
Bausch+Ströbel's answer to this question is the modular VarioSys production system – a system which has been expanded systematically since its launch. In Frankfurt, Bausch+Ströbel will be unveiling a new machine module which further automates the processing of Ready-To-Use (RTU) containers with its fully automatic tub opening and RTU vial denesting capability.